Account opening procedures
Completing registration dossier
The customer, whether being a juridical or physical person who wishes to open a trading account, must submit all required documents to accomplish the account-opening procedure, including:
Account-opening Contract

Online-trading Agreement

Risk Disclaimer

Confidentiality Policy
After the customer has completed his account-opening registration, his account will be activated within 24 hours, so that he will be authorized to start trading as soon as possible on the commodities market.
Login
After completed the dossier, the customer needs to follow this instruction below to use MXV's trading platform called Vision Commodities.
Download and install the application Nightvision

Click on the icon of Night Vision and enter the customer's information on the login screen: user and password of trading account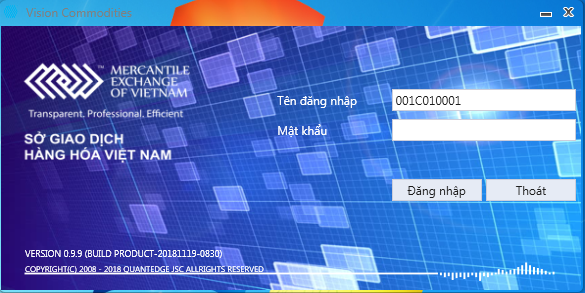 For the customer who has logged in for the first time, the trading system will ask him/her To modify the password as the next figure indicates:

Old password - the password that MXV had provided to the customer

New password - the password that the customer himself/herself would create (at minimum 8 characters, including lowercase letters, uppercase letters, numbers, and special characters)

Enter the new password

Click on the button to confirm the change of password.